What is Performance Marketing?: Everything You Should Know About
The world is heading fast and so the market is. And to stay competitive and with the market objective, your business must have desired results. Because what matters most is performance and only performance.
This can be achieved by deriving strategic marketing efforts. Businesses have the opportunity to build their performance and achieve their target goals to understand what their target audience is required.
49% of consumers are adore and influenced by influencers on social media channels. Users hardly take any decision without re-verify the influencers. That's what the marketing tactics are. A such thing comes under performance marketing.
With the small example, you get the brief. For example, Linkedin displays its professional's personal information on its platform. This information is sold to advertisers and from there they collect the data and sell it to marketing agencies. Now the agencies find their potential audiences and boost their brand's overall performance.
This is the LinkedIn ad platform especially driven to perform specific goals. Google does the same. The major goal is to target small niche audiences using tracking attributes and increase performance.
To understand detailed information about performance marketing and its benefits, let's dive deep into the blog.
Are you ready? Let's go!
What is Performance Marketing?
Performance marketing is comprehensive of both digital marketing and advertising programs to achieve a specific goal like sales or lead.
It contains an umbrella of marketing practices like influencer marketing, marketing automation, social media advertising, email marketing, display marketing, and affiliate marketing.
With performance marketing, you increase sales and analyze the performance as well whether it reaches a potential audience or not. There are fixed matrices to achieve goals or quantitative results with performance marketing services.
Today most businesses adopt this new term recently to improve their company status and performance. Now you can optimize your goal cost and pay only when you achieved the result. Some other features you get from performance-based marketing. 
Drive sales 

Drive customer acquisition 

ROI for both; marketing budgets and corresponding budgets 

Traffic and sales- eCommerce- email marketing 
Why is Performance Marketing in Trend Nowadays?
Performance marketing is the prime buzzword for the industry nowadays. 
Consumer preference is not on single media. It has been widely spread to different sources.
So, the business design and schedule its marketing campaign to meet specific goals and improve overall performance. This helps the performance marketing consultant to track business outcomes completely. Basically, it is the effort that moves you in the right direction.
For example, the influencers always promote the service and its brand and tell you to use their code before purchasing the same product.
As performance marketing is the set of influencer marketing, social media advertising, marketing automation, and many more things, it is the hot buzz trend nowadays.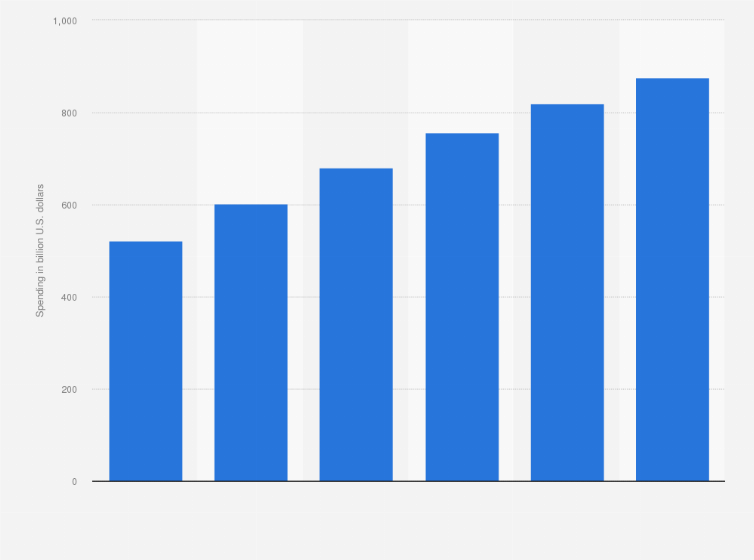 Source – Statistic
As per market stats, Online advertising spending in the world was found to be $521B in 2021 and is estimated to reach $876B in 2026. In recent years the spending on advertising has increased a lot. Today big companies are not afraid of investing a large part of their money to trigger audience attention.
Some of the major trends in this marketing are influencer marketing, podcast advertising, DTC growth, data privacy, regulations, etc.
How to Improve the Performance Marketing of an Agency?
One common challenge about companies is that they are so desired and lose their focus equally in a short time. In the rapid time when there are frequent fluctuations, you can't find out the possibilities 100%. You can't rely on only one factor to find out result-oriented business outcomes.
Perhaps we have certain practices that are fully assured to the business and marketers to adopt and trust it.
They are as follows:
Approach Multichannel Expertise
The first objective is to not rely on a single channel. By this statement we mean to say that performance marketers create the campaign to target through multichannel.
The large umbrella is a wholesome practice to include every detail and supervise different campaigns to target potential audiences via different channels. Overall you must target the whole soul of marketing like SEO, PPC, designing, and sales.
The digital performance marketing agency helps in targeting only the potential audiences that are intentful and assured of conversion.
The agency understands the needs of customers and brands and builds its campaign to achieve the desired ROI or sales. But first, understand from top to bottom the relevant market.
A great performance marketing agency prepares a deep dive strategy for a brand not only focusing on AdWords or paid marketing. They find every possibility that improves branding performance. Like how to improve landing page conversion, analytics, designing, loading page, advertising, and much more.
Some other factors are: 
ROI Increase 

Performance Marketing and Programmatic Marketing

Affiliate Marketing 

KPI metrics measure every activity that is reported, measured, and analyzed.
Campaign results are understood and optimized for performance. Just like any analytics tool helps to measure market predictions, similarly, performance marketing services do the same. 
What are the Performance Optimization Metrics?
"Catch the right people at the right time. "
And that's the purpose of performance optimization tools.
Data is the most popular asset for digital existence. The more you have data the better you can gain insight into it. With the help of performance optimization tools marketing agencies simply identify and measure the data more crucially. That will result in great results.
To bring it more defined here we have a list of performance measurement metrics or KPIs (key performance indicators) that clearly outcast the companies for accurate results. 
Most commonly used KPIs:
CPM: cost per mile

= cost paid per 1000 impressions. It is the cost to reach the user. A number of times the ad is shown to users. If you are a digital marketer your main goal is to create user intent and meaningful content. Then only you focus on this metric. 
CPC: cost per click

= it is the price paid for each time the user clicks on an ad.  It is based on the action so it is an important metric than CPM where there is no action. The cost of the target more or less depends on who the target audience is. For example, if you want to target a small niche of audiences but with higher investment, then your CPC goal metric reaches a big amount. 
CPA: cost per action

= the cost evolve for specific actions like downloading an ebook, signing up, subscribing, or purchasing an item. It is the action taken by potential customers at the scheduled time. It is one of the most important metrics. 

LTV: lifetime value:

it is the lifetime customer journey and relationship with the brand. The potential customer spends how much money on any activity. This is known as predictive analytics. This helps to achieve estimated ROI.
Now the next step is to plan the strategy for marketing a brand on keeping the important metrics in mind.
How to Build a Performance Marketing Strategy? 
To build a wise performance marketing strategy we have measured the following practices that are good to adopt.
The practice is followed with everyone's effort; it is not a single-man task. It is very crucial to keep an eye on your performance marketing strategy. 
Let's start the process. You need to think in the below way to start your plan of marketing strategy. 
What is your goal? Evaluate it, which areas are you going to target 
Brand awareness is the major goal for marketing companies. If you are a client that needs to upscale their revenue and sales in a short time, then your major goal is to be aware of that individual brand and similar brands as well. You should have knowledge of the specific brand which needs a performance marketing goal and design a value-driven plan for it.
How to increase traffic is the next goal? You should focus on how only potential visitors come forward to the website or portal so that they can convert into customers.
Remarketing or retargeting 
This method is actually a tactic that marketers have followed to target frequently to the same visitor who denies the first time to become a customer. 
Once the visitor comes to your channel, if you have followed the above things and he has the proper knowledge of what he is looking for then he may be converted into the conversion. There are many ways to engage visitors to your platform or website.  
If the user is converted into a conversion then he is termed as lead generation. 
Once the lead is converted, the business executive connects with the client, offers the understanding of services, and yes you convert him to sales.
Advocate your Channel presence 
Social media is the ideal platform that allows marketing agencies to associate with influencers for their branding. The top social media influencing channels are Instagram and Facebook. 
Now, this is the natural look-like theme that displays advertising and content both in sync. It is the major way where the performance marketer showcases both paid ads and organic content in a lane to give users a natural state.  
The major goal of affiliate marketing is to convert action into sales. Such as amazon affiliate marketing, where once the user hits the affiliate link and purchases anything, the business gets a commission on it.
Understand the pain points of your target audience
It is a healthy practice of performance marketing agencies to get deep insight into the audience. With that understanding, the digital marketer focuses only on those areas and starts building their campaigns accordingly. 
You must create the ads and images relevant to the ideal campaign to target the desired audiences. For Facebook-sponsored advertising, you need not place anything randomly that does not match the business campaign goal. With Facebook advertising you might have a goal like increasing traffic or brand awareness, so create the campaign for a specific goal and post ads with relevance. 
The top attractive headlines are the signature to grab most audiences and make them impressions and visits. 
Once you have followed the above points the next thing is to design the ad post and schedule it at the time when you have the possibility to reach a large audience.
Sales are not the only thing to aim
When you are preparing the campaign goal your move is to make it optimized. Only the optimized campaign shows you the result that is desired. It's not always that you have sales-specific goals. 
Identifying your channel to whom you should target is an important aspect. Every channel has unique benefits so first evaluate what are your requirements and then plan the specific goal and campaign desired for that channel. Optimized goals bring you more compared to any other thing. 
Focus on the niche audience for the brand. And then start preparing your campaign based on that. If the campaign is not matched with your specific goal then you have chances that vanish your efforts.
Brand safety is a must for every brand or business. You won't survive in the industry if your brand is not aligned with security measures. 
Every brand should follow privacy rules and anatomy that is publicly disclosed for companies for following any practice. 
Compliance related issues 
This is included in the compliance and regulatory services. There should be no major issue with your marketing agency. You perform performance marketing management for businesses. 
Online fraud and click fraud and bot traffic 
Aware of online fraud. If you are doing any such tactic you will be under the eyes of legal departments. Avoid bots to increase the traffic of any channel. Google algorithms are advanced and easily find out any such tactic and surely vanish your brand identity.
What are the Benefits of Performance Marketing?
"Performance marketing connects people with the brand" 
When talking about performance marketing we can't limit its value. It lets the business understand more about the brand. After all, whom they trust is the most important question.
With the scope of the internet and social presence, year by year people relies more on it. To measure the success of any brand, performance tracking is crucial. Hence, performance marketing agencies have adopted creative ways to expand their reach to the right audience.
Native or specific goal marketing is based on performance marketing management. Tracking and attribution is the prime goal with it being to converting visitors into conversion. Conversion is a major goal and it can be anything from signup to sale, to lead or demo.
Here are the benefits of performance marketing;
Easy to Track Performance:

Using a data analytic tool the marketer can track the click-to-pay performance of the customer. This helps the business to know when and where to invest their capital and earn quickly time. 

Lower Risk:

When a marketer has the idea of where to invest and why to build their campaign. When he built the campaign first understood the purpose and demand in the market. Then your campaign would be at less risk. And the budget decided to boost the campaign and meet the desired result would not be harnessed. 

ROI-focused:

The campaign is created to

boost performance across every campaign. The only focus is to increase sales and revolve the ROI which is a mandate for businesses.
The business marketer paid only when their desired results have been met. 
Pay for ads for social media, videos, and search engines. 
What are the Top Performance Marketing Channels?
Till now we have understood every factor that is crucial to follow performance marketing. The tools help to evaluate the performance of brands and meet the desired goal.
But it is equally important for us to know what channels allow marketing agencies to run their performance marketing practices.
Below are the top performance marketing mediums that have followed important metrics that help businesses to leverage their market success, not just sales.
Check out here;
1. Display or Banner Ads:
Display ads are the most common type of ads used for campaigning. These ads are placed at the most popular spaces on the platform like a newsfeed, top, and bottom of pages, suggestions advertising, etc. The main intent is to target audiences from the places where they are mostly surfing on the website.
But always keep in mind to avoid banner blindness which means do not put anywhere display ads just to annoy the audience. Else the user sooner loses focus from the channel. Place the content as interactive to improve the audacity of the platform.
2. Native Advertising
It is the traditional way of advertising via sponsored videos. With the help of paid ad campaigns, businesses used to target and attract audiences to the platform. These ads are popular on every major platform like Google, Facebook, and Youtube. Sponsored content is the defined content that is especially displayed with online marketer efforts.
With native advertising both the organic and paid content is live at the same time. This gives a familiar and natural experience to audiences on the platform.
3. Content Marketing
You simply can't ignore the presence of content marketing in the organic or sponsored world. It is the most top performance medium through which brands improve their campaign and meet their goals in the planned time.
As per a recent survey, the content marketing strategy establishes three to four times more traffic alone for the companies.
The main idea why companies adopt content marketing strategy for their goals is to give relevant and well-contextual information to the users. With the format like social blog posts, ebooks, case studies, reviews, etc.
4. Social Media
Social media is heaven for marketing practice for any business. It is the medium where every zone of the audience is present. It gives a quick reference to the audience to access sponsored content.
Many influencers and other performance marketers adopt social media channels to spread their knowledge to their target audience. Some of them are Instagram, Facebook, Linkedin, and Twitter.
5. Search Engine Marketing
You heard about marketing on search engines and optimize it to improve the reach of audiences on it. For performance marketing, the main focus of businesses is on cost per click i.e CPC. It means how to improve the user's click on the niche platform.
6. Search Engine Optimization
When you focus only on organic-driven sales, then SEO search engine optimization is an important trait for businesses to follow. It raises the performance of the website obliged by the Google algorithms. But how this works is the real mystery.
The google algorithmic crawler tracks the site map and backend interlinking and authority of the website. If the algorithm fulfills every aspect of the niche website then it instantly boosts the website's rank. This is the organic tactic where the business does need not to pay any money.
7. Affiliate Marketing
In affiliate marketing, the advertiser pays a commission to the agency for every action like a sale finished by the user.  This involves some traction like coupon codes, and incentives. 
How Verve Online Marketing can help you achieve your major performance goals?
You are with us from the beginning. We are sure that you have understood the hot and popular topic, performance marketing. With this blog, you have a quick understanding of every standpoint associated with digital performance marketing. Don't worry. We are not going to put any annoying and irrelevant things in the blog.
This blog is majorly focused on digital marketers, digital marketing agencies, performance marketing agencies, digital performance marketers, and enthusiasts who want to understand this topic and perform such marketing practices for them.
But what for the businesses who want someone to do online or digital marketing for them to increase their brand awareness or another goal?
To stop your haunt more and for the businesses, we want to convey that we could help you out. You need not worry.
Verve OnlineMarketing is a 360-degree digital marketing agency that has a bunch of solutions that cover performance marketing for your brand. We have top clients in the lane that solve their marketing issues by taking consultation with us. Our best digital marketing experts are good at giving services that are pro in the industry. We are giving 100% blueprint solution provider for services like PPC, digital marketing, paid advertising, SEO, sem, content marketing, and much more.
In addition, we have solutions for web development and design businesses as well. You can visit our portfolio for Verve Logic and Verve Branding.
So do not hassle more, start connecting with us for services and more updates.
FAQs: Most Frequently Asked Questions
What is the difference between performance marketing and affiliate marketing? 
Performance marketing is the umbrella or set of all types of marketing to achieve a specific goal with the optimum cost and time. Such marketing is based on a data-driven approach to understanding detailed customer behavior. While affiliate marketing is totally based on the sale or commission associated with the action. 
What is the difference between performance marketing and brand marketing? 
In performance marketing, the brand is able to achieve every specific goal aligned with the quantitative result. It helps businesses to measure their performance in real time. While brand marketing has built a positive customer perception of the specific brand. This improves brand awareness. 
What are the best resources to hire for performance marketing? 
Depending on your budget you can perform performance marketing. If you are short on skills you can outsource a performance marketing agency and performance marketing consultants that are trustworthy and skilled. 
What measure followed as a performance marketing plan? 
There are different metrics that can measure the performance of marketing for the business or brand. Some of them are CPC, CPM, CPA, etc. You can also take the individual plan of the associated performance marketing agency that low down your risk and track performance for you. 
Is performance marketing a scam? 
Everything is not fishy. Performance marketing is not a scam. Perhaps it is an unavoidable parameter for the business to build its online presence. The marketing companies charge you for the campaigns they have customized for your branding.
(Visited 89 times, 1 visits today)