Verve Online Marketing Hails Recode Studios For Its Steadfast Appearance in Shark Tank India Season 2
The moment wasn't any less of a thrill when we watched RECODE STUDIOS, our Digital Marketing client, on India's top business reality show, SHARK TANK INDIA, Season 2, Episode 1.

Recode Studios In A Nutshell
Founded by acquaintances, Dheeraj Bansal and Rahul Sachdeva in 2018, Recode Studios is a makeup brand and an online marketplace, selling international beauty and lifestyle brands to the contemporary population of India. With 60+ global brands including Riyo Herbs, Keauty Beauty, Wow Skin Science, Colorbar, Indulgeo Essentials, Power Gummies, Perenne Cosmetics, SKOG Sweden, etc. Recode Studios has become a one-stop shop for authentic beauty and personal care products.
At present, the brand enjoys a PAN-India presence via over 250 retail stores and 3 franchises, i.e., in New Delhi, Faridabad, and Raipur.
Recode's USP lies in the fact that they make 'Buying Pricey Makeup' economical for women in India. And that's what they pitched before the Sharks.
The Pitch
Women in India might openly ask makeup artists for the brands they use during the makeup session, however, they always feel hesitant in buying the same brands from the markets, as it's a costly affair. Recode Studios stands as a super daddy to these women as it lets them buy exceptional, authentic, but of course, expensive makeup, at affordable rates.
The founders asked for 1% Equity for 1 Crore for their brand, to which the Sharks started digging deep into the brand's background, problem-solving approach, sales, profit, and its Customer Acquisition Model.
An Awe-Inspiring Moment
Recode's Customer Acquisition Model was a heart-winning moment for the Sharks. From re-establishing itself post-COVID-19 using a 1 rupee Flash Sale to educating people through self-grooming classes and free lunch, Recode built not just customers but an enduring trust within a short time. A grand win in the market in such a short time is challenging for any business. But Recode Studios did it with flying colors, the Sharks apprehended.
The Downside
The Sharks did not like Recode's packaging, which surely could be a loophole in their growth, says Aman Gupta, the CMO of boAt and one of the 5 Sharks. While other judges cited valuation glitches, impetuous decision-making, and unwillingness to invest in other Sharks' competitors, as the grounds for not investing.
What People Said
The Shark Tank Judges faced criticism for being unjust to Recode Studios. Check out some tweets expressing people's disappointment towards the Shark Judges.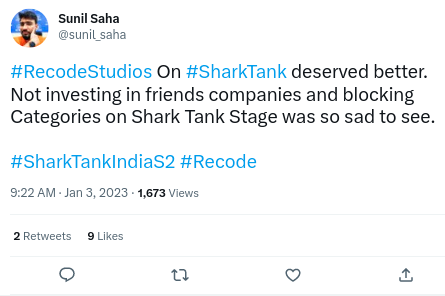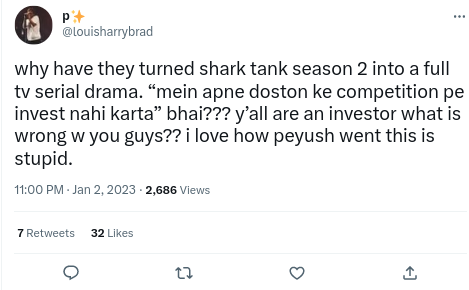 While some also said…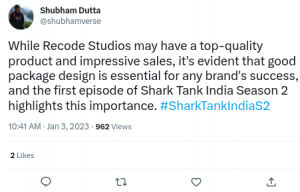 However, although the brand didn't earn a single penny, it surely won the country's attention in just 20 minutes of appearance. Recode started making good business soon after the episode aired. It changed its packaging and even launched its 'Shark Tank Sale' in no time.
An Impeccable Association 
Verve Online Marketing, Recode Studio's SEO partner, congratulates the proud founders for bringing up their story in front of the whole nation and obtaining much love through social media. Our association with Recode has been super successful for all these years.
We look forward to constantly catering to their marketing needs in the years to come.
(Visited 385 times, 1 visits today)