What is Demand Marketing? And How It Will Help Your Business Grow
The sole purpose of marketing relies on how your target audience reacts to it? If you are able to influence them well and keep them buying your products you are successful. And needless to say, marketing is a long-lasting and ever-evolving process. There is no resting for the marketers at any step – precisely the B2B marketers.
The heart of marketing is demand generation or we can call it demand marketing. A straightforward concept provided that you have the privilege of complete information – the core and crust of this term. However, B2B marketers sometimes false-analyze the concept and end up struggling with sales.
So let's start with what is demand marketing? And gradually move on to the other crucial tangents of this process. Hopefully, this comprehensive is faithful to you when you're making your marketing strategies.
Table of Contents
-> Demand Generation v/s Lead Generation
-> Ways to Determine Market Demand
-> The Basic Principles of Demand Marketing
-> How You Can Increase Demand Generation?
What is Demand Marketing? 
Demand marketing is well-understood with creating a "want" of your product in the market. The term is all about influencing your potential clients, making them excited about your brand, or anyhow pick the right nerve to generate demand which will end in sales – especially if you are dealing with B2B buyers who are always expecting more from their suppliers.
However, demand marketing is solely dependent on making people aware of your brand and in turn generate demand and the process unleashes the marketing strategies that will make them eager to know more about your product to eventually make them realize its significance in their lives.
Although, there are various marketing terms that are used interchangeably and need to be decrypted well for better and on-spot utilization. Some of those terms are demand generation, lead generation, and demand creation. To avoid lapses, let's see the difference between them.
Demand Generation v/s Lead Generation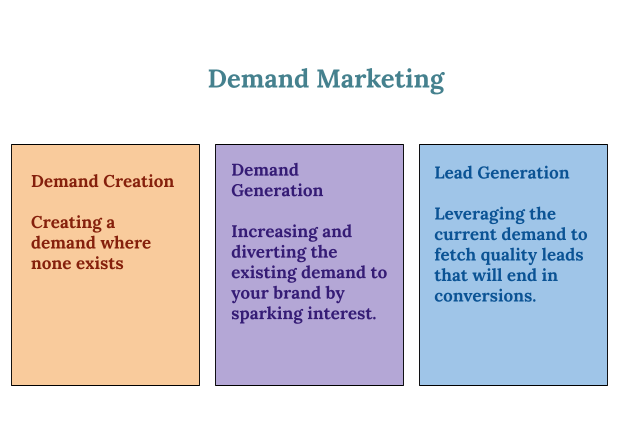 => Demand Generation
Experts refer to this as target marketing as well. The process where awareness and interest are generated in a particular brand among the crowd who is already having a demand. The demand prevails and the marketers divert the prospects towards their brand in the run to ultimately increase their sales by nurturing and maintaining good relationships with their target audience.
=> Demand Creation
On the contrary, demand creation deals more in creating the demand where no prior demand exists. Demand creation serves when there is a new product or service launching in the market – no one is aware of its usage. All in all the term is strongly connected with creating the demand for a new product and analyzing the demand targeting a specific group of potential consumers.
The sure-shot tool to demand creation is 'Presence to Market' – in which the initial marketing includes media coverage, thought leadership, and subject matter expertise.
=> Lead Generation
Now that there is a demand in the market for your product, it's time to generate leads. There are several proven lead generation tactics like content curations, SEO, paid Gmail ads, social media marketing, etc. To know more about these lead generation tactics, explore "25 lead generation strategies for sure-shot marketing ROI" – an experienced digital marketing company completely relies on.
Optimize your lead generation tactics to accumulate the contact information of your quality customers that are most likely to convert. One of the ways is Gated Content (eBook, whitepapers, newsletters, webinars, tutorials, guides, etc.), ensure that your content is top-notch that makes it irresistible for your B2B clients to involve.
In short, demand generation and demand creation are the two initial stages of creating awareness and demand for your brand. Then comes the lead generation that directly targets at pooling leads who upon nurturing (marketing stage) will convert into successful sales.
Ways to Determine Market Demand
To attract your target audience and to serve them well you need to determine their demands. The process is never-ending, whether you are a startup or an established firm, you need to be well-versed with the current demand in the market. What you were serving yesterday may not be significant today.
Here are the tools to determine your current market demand:
1. Surveys
Conduct surveys asking people what they feel about your product genre and how far is it significant in their everyday life (low, average, or high). Luckily, the social media network today is widespread and you can conduct these surveys there to get numerous responses.
2. Experiments
You can create versions of a particular product to see which one has more market demand and can fetch you a significant profit. Though experimenting is an initial expense for startups but definitely entails a long-term gain.
3. Observations 
Market observation is a must for any business. Observe and get inspired by your counterparts, observe your interested topis on social media platforms like Twitter, Instagram, Facebook, and Pinterest to gain an insight into the industry. This will help you know the current market demand and make strategies to create the demand for your brand.
The Basic Principles of Demand Marketing
1. Know Your Audience Pool
There is no significant result gain from marketing until you know your audience well – their challenges, their demands, their benefits, and how you can serve them? Undoubtedly it is important to create a buyer's persona based on its demographic possession so that you get a direction for demand marketing.
Acknowledge your target audience and know them well by conducting surveys and interviews to get an insight into their demands. This will let you tailor your marketing strategies in a way that interests them. There is no need to strive for sales if you have successfully triggered the demands of your target audience.
2. Engage Your Target Audience to Your Brand
You are going to need more than content curations. Though content is the best way to create brand awareness and resonance, it is not enough until you interact with your target audience on a regular basis. Demand generation is entirely related to creating awareness and demand for your offerings. Also, do not forget your satisfied clients are your ultimate advocates in promoting your brand to a further target audience.
3. Deliver Added Value
In the market where there is already a demand and you have to create a demand for your brand, you need to establish thought leadership and industry expertise. However not a monopoly, but authority.
Create content that educates your target audience at the same time interests, entertains, and engages them to your products. Make your 'call to action' clear. moreover, maintain confidence in your brand as more than just selling your product, you are providing value to their purchase.
4. Integrate Marketing Efforts
A scramble of unsynchronized content all over the internet will lead your marketing to a dead-end. Make sure you have a constant message to deliver to your target audience through all your marketing strategies.
For example, you have developed quality content and are publishing it on your website/blog, make sure you integrate it with your SEO strategy to make it search engine friendly and get more impressions on your website. Integrate your new blog/website content in your social media marketing strategy and your email marketing strategy to interact well with your target audience.
There are certain marketing automation tools you can rely upon with the integration of your marketing channels. There are various platforms to handle for the day Facebook, Linkedin, Twitter, Search engines, email platforms, etc. These tools will help you manage your marketing strategies and also automate the repetitive tasks of sending bulk emails and content posting on various social media platforms. Ask the experienced digital marketing and SEO consultancy more about automation tools.
5. Articulate Your Results
To channelize your marketing strategy and to make necessary changes it is important to track the data. Various Metrics and KPIs are your life-savers here like click-through rates and website traffic can help you find where you are succeeding and where you need to change your strategy. Look at the data to answer these questions:
-> Are people engaging with your content by commenting and sharing it?
-> Is your website easily visible on search engines?
-> Are people reaching your website through social media channels?
How You Can Increase Demand Generation?
1. Multiple Buyer Profiles
If you are in business you very well know that the target audience is not a small group and to generate demand targeting such a wide tool you have to create multiple buyer's profiles/personas.
Study your target audience pool and then create buyer's persona each by categorizing them based on their characteristics, purchasing behavior, demographic possessions, pain points, needs, etc. Once you have your buyer's profiles ready, you can now easily fabricate customized marketing strategies in the interest of each buyer type. As the preferences and behavior change with time, you need to keep your data fresh.
2. Target each profile for customized content
Now that you have segregated your entire target pool into multiple buyer profiles you can start with creating relevant content for each group. Despite the insides of the content, know which content format to use and on which channel you can best approach the specific buyer type.
For instance, you are the owner of a solar energy plant and have to approach a CEO of a telecom business, a farmer, and the owner of a manufacturing company. Based on your research you find out that each belongs to a different business persona and while the CEO appreciates the eBooks, newsletters, case studies, etc, the farmer is influenced by the Instagram videos and the manufacturing unit owner likes to read blog posts, guests posts or quora to get his investments set. To get maximum profit you have to serve your content in three different formats.
3. Approach industry influencers
As influencers own a large followers' base you can leverage their followings to fetch the leads. Approach these guiders, send them free products or give free trials in exchange for the media post or video/written content giving a backlink to your website. In order to ensure that you have access to just the right audience make sure you choose to associate with industry influencers only.
4. Invest in paid ads
Invest in paid ads such as search ads, Gmail ads, or display marketing that will help you reach the ones you could never have approached through organic traffic. Since you are following the buyer's profile rule, you can easily filter your search to reach just the right crowd.
5. Leverage Facebook's Lookalike Audiences
The Facebook ad has these amazing features of "Lookalike Audiences" it is indeed a powerful tool when you have to target the 'like' audience residing all over the world (you can set your premises – city, state, country, or world). More like a recommendation, this feature lets you reach out to an audience whose characteristics match with the users who have earlier reacted to your ads. This increases your audience and ultimately your customer base.
Summing Up
As said above, creating a demand for your product is the first base to generating leads and then successfully converting them into your lifetime clients. Here comes the role of "demand generation".
Creating demand in the market that was not aware of the product and then generating the demand to become massive in your brand's favor. All in all, demand generation is about educating people about your brand, creating interest, and then maintaining the authority in your segment. It is a must for any organization.
Demand creation leads to demand generation and then lead generation – all three are the crucial verticals of sales and conversions. Want to channelize your marketing strategies in the right direction? Get to the best digital marketing company and know more about demand generation.
Also Read: 15 Amazing Marketing Strategies for Small Businesses
(Visited 267 times, 1 visits today)