25 Best B2B Lead Generation Strategies Ensuring Marketing ROI
"No time for old stories now, people are constantly developing new insights".
The blast of just the rightful content curations all over the internet (addressing all the concerns and emerging trends) has made consumers highly educated of what they are using? Moreover, the ever-evolving technology has increased their expectations in terms of better customer experience (especially B2B buyers).
No doubt, lead generation from the B2B buyers is a tough one to accomplish nowadays. Well-versed with the emergence of the latest tech stacks and constantly evolving trends, these firms always look for a better way to evolve and entertain the ones that have a USP or a unique marketing strategy (on par with the latest in the market).
This ever-evolving scenario has made B2B marketers work head over heels to re-define their lead-generation strategies in a way that will pick just the right nerve of the B2B buyers. Some have successfully achieved their targets while others are still struggling with B2B lead generation through old-school marketing ways.
Now is the time to head up and replace the old-school. Here are the 25 best B2B Lead Generation tactics that will speak well with your target audience in 2021:
1. Evergreen Content – The Best B2B Lead Generation Tactics
Content is the King of the scenario provided that it has to be of good quality and evergreen. Not only that, being a tool for mass communication, content has to be scheduled on a daily basis (that not only builds up a conversation but establishes you as an expert in your respective field).
The study by Hubspot says a company that publishes 16 or more organic blogs in a month is likely to get 4-5 times more leads than any of its counterparts who are not regular with their content curations.
The steady key to B2B leads is informative, engaging and evergreen content that will bind your audience with you, educates them well about your services and in turn, converts them into your potential clients.
Evergreen content works in favor of your SEO strategy, apart from your content is informative and engaging make sure it is never out of style.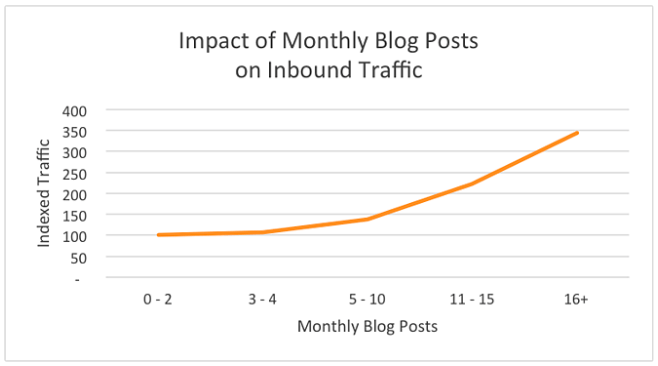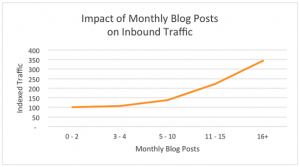 (source: marketinginsidergroup.com)
Takeaway:  Investment is a process for a B2B buyer, they refer to 3-5 related content and respond to the one that satisfies their business requirements. So get your grasps on the content that completely caters to your target audience well.
2. Gated Content for B2B lead Generation
Gated content still is one of the top ways to identify and target your audience, though, several marketers are still unsure that they should gate their content. Undeniably, the Gated-content strategy affirms that you are not playing in the dark and you have a certain lead to go.
Just like, Trading Strategy Guides (a finance and trade website) once challenged the waves. They came out stronger by adding almost 11,000 targeted subscribers to their email list within a month with the help of a carefully curated gated-content script.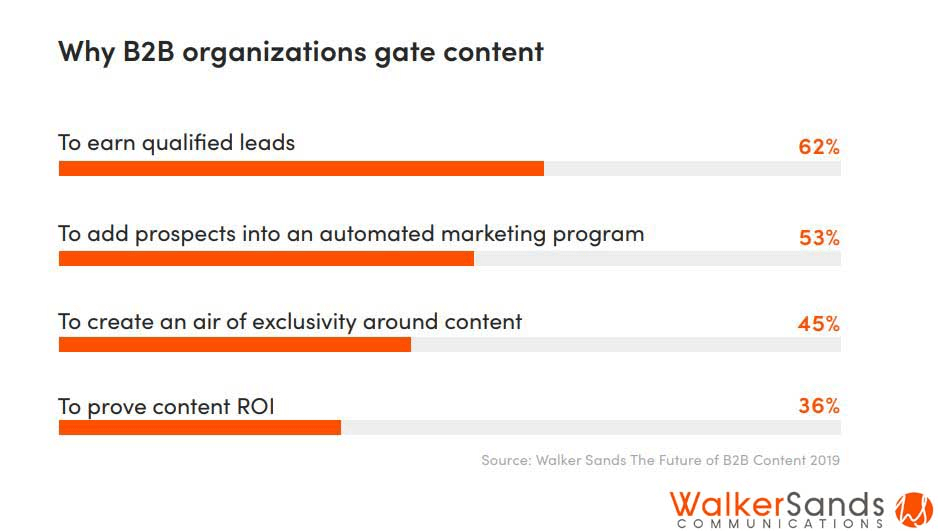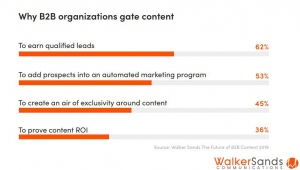 (Courtesy: walker sounds)
If taken care of from the scratch, gated content will surely enhance sales and conversion from B2B buyers.
Takeaway: Gated content strategy is a game-changer when you already have a sorted library of content to strategically launch that can keep your target audience engaged and keep subscribing.
3. Content in-lieu of Emails or Contact Info
Offer content in lieu of Emails or content info. The process pardons you the time which you were earlier putting in to fetch tons of data for pitching and lead generation (you already have an organic database of the potential audience with you).
Provide your target audience with eBooks, newsletters, tutorials, whitepapers, guides, webinars, etc. But, before tapping into the deal make sure your every content owns more than one of these qualities – informative, engaging, entertaining, useful, or problem-solving.
While signup, ask for as little information as you need for your sales to go on unhampered. There are higher chances of bounce backs if your form is too demanding.
Takeaway: A value content exchanged in lieu of email or contact information will help you reduce your load of lead generation to a greater extent (as you already own a quality database).
4. Personalized Recommendations
One-Fit Marketing is a dead end. Now people are more into personalized touches in the content. As per the SalesForce survey of 7000 consumers, 57% needed a personalized deal in lieu of the data they exchange, 53% wanted apt product recommendations and 52% were looking for a customized shopping experience.
Personalized content delivery does not mean you are stalking your clients or using their first names, it is more of showing them a win-win deal in your content.
Takeaway: Personalized content is a major factor impacting business-to-business lead generation (influence your B2B clients with a customized content this time).
5. Link building through Social Media
There is more to social media than entertainment and timepass. People are nowadays receiving a lot of stuff through social media channels that are influencing them in any way possible. Leveraging from social media impact, businesses are targeting these channels to reach out to their target audience (through like communities).
An average person has around 5-6 social media accounts (one or two on all platforms), make the best of this opportunity by being active and influential on the platform you decide to operate on. Your choice of platforms must be based on who is your target audience? and on which social platform they are likely to hang out?
Spams and irrelevant marketing are the deal-breakers. Make sure your brand is not thought of as either of those. Shoot personalized requests and messages for meaningful conversations and more leads from your endeavors.
Responses from B2B Marketers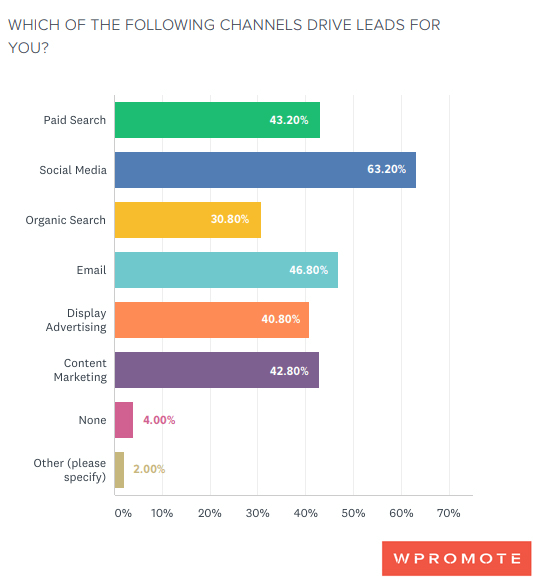 (source: State of B2B Digital Marketing Report)
Takeaway: Build communities of like-minded over social media platforms such as Facebook or Instagram and have regular discussions with posts. Use hashtags for Twitter and explore Linkedin opportunities if your potential clients are B2B buyers.
6. Effective Landing Page and Call To Action
Overmarketing or rather unnecessary marketing sets your leads off. As per the prior marketing experiences, multiple offers and fancy on a page are predators of quality leads (these decrease the conversions by 200%).
This is where you need to optimize your landing page for good. Optimizing your landing page calls for value content on your offerings (no irrelevant marketing), optimizing your signup forms (for user engagement), stressing feedback sections and SEO best practices.
Also, make sure to include CTA on your offers. Guide your customers to what is the next step and how it will benefit them. CTA buttons are always appreciated when it comes to keeping your website smooth, natural, straightforward, and engaging.
Takeaway: More than marketing on your landing page focus on customer experience and solving problems. CTA is a must to reduce distractions and take your audience to an intended path. 
7. Tracking the Behaviour of your Website Visitors
Keep yourself open to the heads-up like why your website visitors aren't converting and why are they quitting in between? Know what is setting them off and that is where you need to work.
Your major assets here are HotJar or Mouseflow, which will help you spot the heatmaps and determine the most-clicked buttons of your webpage. Several leading marketers bet on this technique and assure that you will get the answers to leading questions like – why leads are not converting? Why forms are left unfilled? What makes them stick to your website? etc.
Takeaway: Explore the analytical tools to know your potential audience better and simultaneously know the weak links on your website (in terms of engagement). Induce the strategies to scrutinize pages having CTA links.
8. Encourage Feedbacks and Engagements
It is most common human behavior to read the feedbacks/reviews before getting into a deal (same goes with B2B buyers). As analyzed by RevLocal, 92% of consumers buy a product post-reading their online reviews.
No doubt reviews have a huge impact on their decision-making regarding the purchase.  Feedbacks hold the potential to build trust, improve your local search ranking, and ultimately contribute to conversions.
Takeaway:  Feedbacks and reviews help in the indirect marketing of your product and services. Especially when it comes to B2B buyers (these firms are particular about prior customer experience from your brand).
9. Increase Your Digital Reach
Why limit yourself to your website and social media channels when you have a bigger scope to increase your digital reach. In order to increase your digital resonance make sure you appear on other sites too. This can be done via guest blogging, getting interviewed, answering Quora questions, or other industry-specific forums.
This is a great way to solve the problems of your target audience simultaneously enhance your brand's authority and influence on them.
Quora alone is capable enough to fetch you hundreds of dedicated viewers eventually leading them to believe in your brand.
To know more about influencing your target audience with your content and in turn increase your sales, explore "Thought Leadership":
Takeaway: Outreach your traditional premises and make a strategic placement of your content to create a digital resonance of your brand through other relevant forums.
10. Leverage on Gmail Ads
When it comes to B2B marketing, emails still remain prominent with 77% of marketers using the tool to drive leads.
It's all about getting the attention of your target audience, Gmail ads here help you to target the audience who have received emails from your direct competitors. Yes sounds a little unethical but trust me it's effective.
This paid tool links you to the people who are prior aware of the nature of your services and might get interested in your deals. Far better than shooting in the dark.
Takeaway: Leverage Gmail Ads to extend your services and tell your brand's USP to your target audience (what sets you apart from your competitors). Optimize your email strategies in the interest of B2B buyers and offer them benefits that are impossible to ignore.
11. Re-vamping Video Marketing Strategy
There is no competition for a quality video that explains your services to your target audience. As per a study by Forbes, 75% of the Fortune 500 companies pay attention to the relevant video content and two-third of them visit the vendor's website.
So when it comes to B2B marketing, strategic video content is your sure-shot asset.
Moreover, video marketing has proven to be the major sales driver with 64% of consumers buying the products because they are influenced by the social video content of that particular brand.
Takeaway: HubSpot's State of Inbound report found that 48% of the marketers are targeting Youtube as the major influencer of their services (with correct placement of video content). Stay in the influencers' league and re-vamp your video marketing strategy to pace with the current trends.
12. Automate Social Media Sharing
Amid the chaos of various marketing strategies, there is no time left for most marketers to prioritize constant social networking. Though lack of time could not be the excuse for unoptimized social media marketing.
Here comes to the rescue, the automation tools. These apps or tools help marketers to automate their social media engagement by scheduling their posts, likes, shares, and tweets. Automation tools like Hootsuite, Sprout Social, and Buffer are your best bets in this case.
Takeaway: Apart from sharing your content on social media as intended, automation tools like Hootsuite help you with analytics so that you know the lags and accordingly optimize your content on social media.
13. Offline Events are your chance to connect
It is a must to balance your marketing on online as well as offline tangents. There are chances of your clients fading if your brand is nowhere but online (especially B2B buyers).
Also, events like digital marketing conferences and trade shows are your perfect destination for lead generation (as you will find people with interest in similar services).
Takeaway: Adding on to the virtual influence, B2B buyers (especially old and established ones) will be certain of your services only if they are able to see a human representative.
14. Website Compatibility with Smartphones
In this fast-paced world, consumers (especially B2B buyers) would rather like to have quick access to your services. There is no better way to give quick access than a smartphone-compatible website.
Unlike laptops or desktops, smartphones are quite handy and are available 24/7 with us. As per Google's research, more than 60% of the B2B queries are made via smartphones. The percentage is certain to increase.
Adding on to the thesis, BGC reported that 60% of the B2B buyers admit that smartphones contributed significantly to the decision-making process regarding their recent purchases.
With such a number, it is inevitable to make your website mobile compliant. Make sure you have AMP (Accelerated Mobile Pages) integrated into your website.
Also, ensure that your web pages are mobile responsive (by using Google Mobile-Friendly Test) and your content is web optimized for mobile-first indexing.
Takeaway: Smartphones can reduce the time and process of decision-making by enhancing the peer-collaboration and communication. Make sure your website is mobile-friendly. Ask more about AMP from us.
15. Retargeting
(Picture Courtesy: psycray)
Potential B2B buyers often cruise through websites and articles to help themselves make a purchase decision. Unfortunately, only 2% of them make a purchase the very first time. How to catch up on the rest 98%?
Though underrated, Retargeting helps you get back to the 98% and give them a nudge towards your brand. This marketing procedure is also capable of activating dormant purchasers and get sales from the inactive.
More than 70% of the marketer's reserve at least 10% of their budget allocations to retargeting.
Takeaway: Your target audience might purchase from you (even if they were not planning for immediate purchase) if your brand is influential and constantly visible to them.
16. Explore Email Marketing Automation Tools
Marketing automation is your best bet when it comes to email marketing. Marketing automation works in synchrony with emails and CRM to automatically send highly targeted audience personalized and relevant emails. The process is to ensure that your potential audience is served with top-notch and relevant content from time to time (giving value to your brand).
Nearly ⅓ of the marketers say confirm that email marketing is the most efficient lead generation strategy provided that they should appeal to the clients.
Thomson Reuters says that their revenue increased by 172% after they adopted automation marketing as a part of their lead generation strategy.
Takeaway: Implement the functionalities of CRM in email marketing and you will certainly see organic leads on your dashboard.
17. Chatbots are here to Remain
An accomplishment of Artificial Intelligence, Chatbots work as a customer assistant solving the general concerns of your website visitors. These bots analyze your viewer's texts or voice inquiries and respond to them accordingly.
Chatbots maintain 24/7 uninterrupted communication with your target audience that in turn strengthens their confidence in your service. These bots can effectively reduce 60% of your cost dedicated to human customer support.
Takeaway: Implementation of AI-oriented Chatbots will efficiently optimize your lead generation process and minimize your operational costs (that you were earlier investing in human customer support).
18. A/B Testing Your Paid Campaigns
Ad campaigns giving no significant results is a loss of investment and therefore it needs to be monitored for results and changed as and when needed.
There are always new ad strategies to implement if the earlier one is no more proficient in fetching leads.
A/B testing is the process of comparing two variants of the same ad and later on comparing which is able to generate more leads. A/B testing is an efficient way to optimize your ad campaigns and derive significant results from the same.
Takeaway: A/B testing is a sure-shot way to optimize your ad campaigns and gain organic B2B leads from it. Change your strategies for quality lead generation.
19. Benefit from Micro-Influencers
Influencer marketing has always proven to be a marketing elixir – influencers holding authority in a particular niche will market your brand to their followers.
Sadly, the industry is saturated with major influencers. They are over-spilling with marketing requests which is not only making them raise their prices to skies but also strictly filter their lists of brands they work with.
Micro-influencers on the other hand have a less yet quality follower base. These influencers might have smaller traffic on their videos or content but their influencing power remains the same.
Takeaway: Leverage the potential of micro-influencers who are efficient in marketing your services to a smaller but like-minded audience and will cost you far lesser than major influencers.
20. Analyze Your Data
Enhance your market research and data gathering methods to ensure that you reach a potential audience base. Also, timely filter your database for dormant or irresponsive audiences.
Database analysis will help you know your target audience well, which channel they are diverted from, and which leads are more likely to convert.
Constant data analysis will also help you analyze your target audience's behavioral and preferential changes and help you redefine your marketing strategies for good.
Takeaway: Analyze your data to study customer behavior. There are basic and advanced tools for proper data analysis. The minimum you can do is use Google Analytics to analyze your B2B buyer database.
21. Add Profiles for your Target Audience
Your user's consumption and expectations change with innovation in technology and therefore it is inevitable to study your target audience's current preferences. Profiles will help you study your target audience's persona and their current consumption habits.
In B2B marketing and sales, it often happens that what you were offering your target audience last year is not enough in the current year. In this stage, you might want to introduce updates (to cater to current requirements).
Takeaway: Audience profile will help you articulate their changing consumption patterns. Simultaneous with that you will be able to upgrade your brand and marketing strategies for good.
22. Maintain a stronger link with your Sales Team
Marketing and sales are the two customer-facing pillars of the company. Your sales team will be able to tell you more than you already know about your target audience's behavior and preferences.
Efficient sales and marketing together can make a company successful, with either of the pillar being inactive the growth of the company will surely be affected.
Takeaway: Maintain a firm link with your platform sales team if you want to know more about your target audience's current consumption habits.
23. Top the list of Search Engines
More than 90% of the users tend to wind up their search on the first page of SERPs and therefore the first page is the most-coveted spot.
Is your website ranking on the first page of Google or any other search engine? The process of optimizing a website to make it rank on search engines (specifically Google) is called SEO.
But nowadays more than traffic generation, SEO is about establishing authority and utter relevance to your services. The influential ones are ranked on top.
Takeaway: Your website appearance on the first page of SERPs will not only help you earn traffic but will also establish you as an authority in your niche. SEO is here to rule.
24. Incentive-Based Referral Systems
Reference still works as a major driver in enhancing sales – it still influences more than 50% of the buying decisions. Especially in the B2B sector where large-scale investments are to be made, references from the internal links work truly well in the marketer's favor.
In B2B firms, 70% of the purchases are done on referrals. Your satisfied clients are the major advocates of your brand, incentivize referrals. This will help you with direct conversions without you dedicating much time to sales.
Takeaway: Let your satisfied clients speak for your services. Create customized referral codes that will fetch your current clients' discounts and in turn, will fetch you almost converted leads.
25. Implement Different Marketing Strategies
Still is dead in marketing. Optimize and change your marketing strategies that will work best in enhancing your sales. Implement robust marketing strategies on each lead generation channel and see which is working best and which needs further renovation.
Create solid brand recognition and authority via high-quality written and video content and create your resonance by strategically posting them on different forums. Make yourself as much visible as you can (online/offline) to make B2B buyers confident in your services and make them believe that your brand is here to stay.
Takeaway: Strategic marketing, right content curation, and placement, interaction on social media and offline events will enhance your brand's credibility in a long run. Focus on staying active and far-sighted.
Key Points To Know While You Make Your B2B Lead Generation Strategy 
Make sure to have these below-mentioned points clear before executing any B2B lead generation strategy:
1. Your Target Audience's Needs
Make sure you hold a full grasp on what your target audience wants? Their current pains and benefits based on which you will define your services and marketing strategies. This will happen with industry analysis, consumer surveys,
2. Your Business's Offerings
Your business's USP needs to be very clearly served when it comes to the B2B buyers. They have an intense purchase process, help them narrow down their search by clearly telling them why they need to buy your product and what you have that others don't?
3. Define Your Lead
Make sure your entire sales and marketing departments know which audience to target and who are capable of becoming your potential leads. Quality leads mean higher chances of conversion. Work towards the synchrony of your sales and marketing departments.
4. Reaching Out to your Leads
You have various online/ offline channels to communicate with your leads and tell them about your best services. Online – content, paid to advertise, surveys, Gmail Ads, affiliate marketing, influencer marketing, social media ad campaigns, etc. Online – events, ad campaigns, conferences, referrals, etc.
5. Nurturing the Leads
Are leads always directed to the sales for closing? Well no, some leads are to be transferred to the marketing departments for nurturing as they are not yet ready to make a purchase. Lead nurturing is a process of telling your potential clients (leads) why they should buy from your business? An effective lead nurturing process is mandatory for a business.
6. Lead Scoring
To know if your lead will turn into the final buyer, you need to have a lead scoring (judge the probability of conversions). Lead Scoring can be done based on MQL and SQL – MQL needs further nurturing as they are not yet ready for purchase while SQL is the lead that is to be closed by the Sales Department.
7. Content Distribution
As content enhances your brand's credibility in your customer's minds make sure they are distributed strategically in a way that they target just the right audience. You can deliver your content via blogs, video content, newsletters, website, whitepapers, infographics, webinars, social media content, etc.
8. Post-purchase Interaction with Clients
Your interaction with your clients does not end with them purchasing your product. It is more about retaining them to your brands and letting them refer to others as well. Satisfied customers can help you get almost converted leads and especially in the current times when social media is at its peak.
9. Tracking Your Progress
Owning CRM software to assess the status and success of your leads is a must for any business (especially for B2B marketers). Any B2B lead generation strategy is a flop until it monitored based on accurate goals and metrics. Adding on, these tools can help you store and organize contact data of your potential audience that you have been gathering for a long – helping you in lead analysis.
The Ultimate B2B Lead Generation Tactics
The business grows to success when it has constant leads even in times when there is a technological or preferential change. However, this is possible when one is curious, innovative, and far-sighted with content marketing & placement, social media interactions, and offline representation.
Especially with B2B buyers, you need to know their requirements well, interact with them, let them know their sure-shot benefits, referrals work well, define your USP, and their call to action. Maintain a firm authority of your business both online and offline.
(Visited 128 times, 1 visits today)