6 Reasons Why Social Media Marketing is Important for Your Business Ultimate Success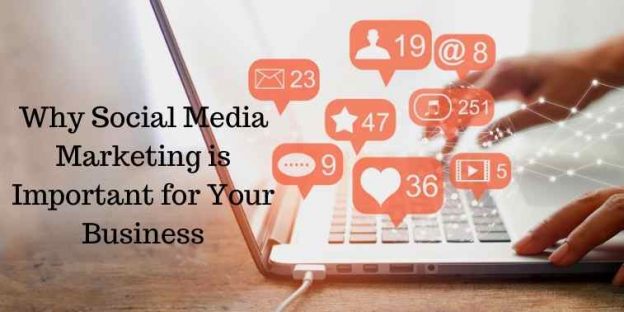 Let's face the fact that social media has a great influence on the public and due to its worldwide web, businesses are including Social Media Marketing as the major element of their digital marketing strategy. Social Media presence has now become essential for any business's growth.
Social media platforms are certainly the sources of entertainment but help connect companies with their target audience and speak right about their products. 3 billion people are using social media all around the world. Leveraging the numbers, anyone can easily increase their reach, spread brand awareness, maintain authority, and in turn accelerate their graphs of sales using the best social media marketing strategy.
As social media marketing holds immense potential and cont be ignored at any cost, B2B firms and other enterprises go for a dedicated digital marketing company as the company is well versed with evolving trends and holds an edge in implementation. They tend to give sure-shot results with concrete analysis and reporting. Moreover, social media marketing is an ever-changing ecosystem and is immensely crowded, one can surely channelize his search focusing on his target audiences.
What is Social Media Marketing? 
Leveraging the social media network to reach out to your target audience, spreading brand awareness/authority, and eventually driving traffic for your business/website. The major SM channels being Facebook, Instagram, Twitter, Pinterest, Linkedin, Youtube, and Snapchat, you can easily select your preferred social media platform where there is the highest possibility of fetching the leads.
Mentioned below are the Pillars of Social Media Marketing as depicted by the professionals of Social Media Marketing agencies.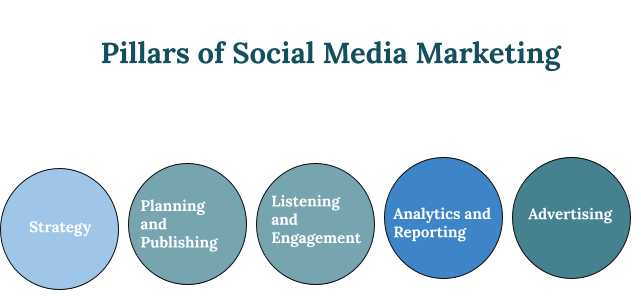 Social Media Marketing – Stats and Figures
Pacing up with the current trends in social media marketing is as mandatory as it is time-consuming, so B2B review and rating firm 'Clutch'  collaborated with marketing agency Smart Insights to know more about social media marketing trends and challenges from its co-workers.
Let's see the results:
=> Social media platforms responsible for the highest traffic were
-> Facebook (89%)
-> LinkedIn (83%)
-> YouTube (81%)
-> Twitter (80%)
-> Instagram (56%)
=> 52% of the social marketers believe that social media platforms have positively impacted their business sales and revenue.
=> 80% of the firms share original social media content
=> The two important metrics are – engagement rates (36%) and conversion rates (35%).
=> 46% of B2B firms and 58% of B2C firms find Social Media a valuable part of their online marketing.
=> Challenges on social media are not having human and financial support (26%), no proper strategy (24%), and building a community of followers and influencers (24%)
Some premium advantages can be fetched through apt social media marketing, which is why it is the crucial essence of any online marketing strategy. You can always make an initial move to find its worth.
Premium Advantages of Social Media Marketing
1. Attention and Awareness towards the Brand
You will not be able to fetch quality leads until your target customers know well about your brand. Social media is the sure-shot way to spread your brand's awareness and drag potential clients' attention to your product/services. Above all, it is completely free of cost to create a business profile on any social media platform, so there is nothing to lose in this marketing experiment.
Though it is a fact that consumers are highly influenced by what they see on social media given that the content is engaging and original. Amid the crowd of business promotions, one has to make a difference to grab attention. So how can you make a difference?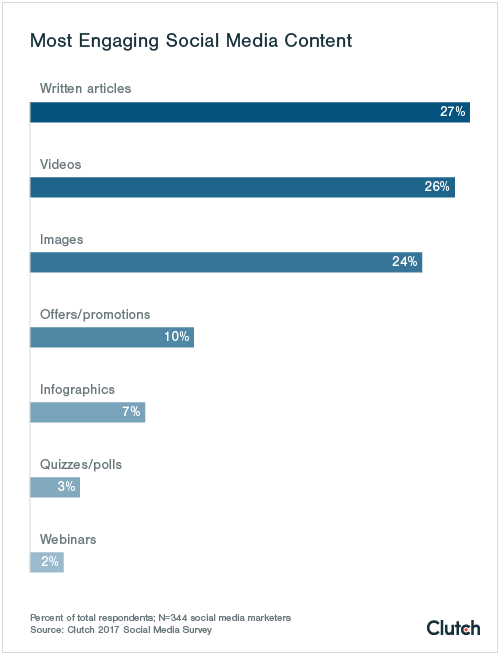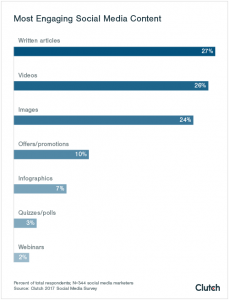 From the above survey, it is quite clear that written content, videos, and images create a long-lasting influence on the potential audience and are quite capable to cut the crowd. These are the content types that will help you make it through the newsfeeds, so do only not use them but invest in their quality.
Quality content is always intermediated by quality design and therefore between videos, posts, GIFs, and memes, one has to carefully plan and execute his content curations. Focus on the message you want to convey, how you want to establish your brand, and what will make them post/comment to initiate a conversation? Get your purposes straight from social media marketing.
2. Convey Authority
Customers are both aware and curious about the brands they support and purchase from. They are more likely to surf your website and your social media page. Make sure they find quality content. It won't take much for them to dart and here you need authority.
Set up a comprehensive yet appealing profile with regular updations and rich content – this will help you communicate right to your target audience and maintain authority.
Be confident in your brand and then in your social media appearance. Leave a positive first impression to show that your brand is worthwhile and can be trusted in the long run. Do it by curating content that reflects your expertise, values, and offers.
3. Visible Authenticity
Captions with relatable posts on social media are key drivers of a business's growth. Now that you have the most suitable platform to communicate with your target audience is here, you must create a robust and active persona of your brand on social media to create authenticity.
Unfortunately, you cant attract a larger audience with mundane co-operate style posts – those could be informative but will not lead to the hearts of your potential clients.
Brands being polite and empathetic with their audience still need a firm voice to deliver their business purpose. Whether it's funny, formal, or friendly, get a grasp of the right tone while you deliver the message to your target audience.
4. Encouraging Engagement
Social media is an open gateway to conversation, engagement, and conversions and therefore it deserves a higher pedestal. Sometimes a simple shoe ad gets a significant number of likes, shares, and comments (asking for the quality and price) because of its social media strategy and response speed.
Also, social media evolves at a lightning speed. These channels grow constantly releasing new features, trends, and functionalities. Make sure you are able to pace with the advancement.
Being updated is not a tough task to accomplish, keep up with the latest, keep yourself open for changes, experiment, and learn as you grow. With time you will surely know the preferences of your target audience.  Come up with engaging video content or post a behind-the-scenes tour or conduct quick Q/A sessions to interact well with your followers.
5. Growth with Ad Campaigns
A sales promotion is a deal-breaker on social media, but it is a marketing channel and you might not want to miss the opportunity to grow your clientele. Sponsored info timelines, retargeting, CTAs, and retargeting remain the major essence of social media marketing.
Though ad campaigns might seem to be a heavy investment with no immediate profits, they will contribute to your business success at last. Your business regardless of its size holds a firm opportunity to grow and reach its ultimate objective through ad campaigns on social media like Facebook and Instagram.
Some businesses focus on data but social media is not a predictable journey. For instance, while scrolling, you might come across a jeans ad which you liked a lot, not immediately but after a week you find yourself shopping at Levis. This is how social media advertisements influence our decision-making process.
Make the best out of your ad campaign by focusing entirely on your target audience, their benefits, CTA, and your goals from the ad.
6. Support
Social media has taken over a lot as a marketing channel and a customer support platform. Earlier people used to call customer support and wait for the responses, now their reflex is going to Facebook or Twitter to get their queries solved.
Develop firm goodwill of your brand by offering customer support through these channels.
-> Develop a mechanism of tracking customer comments
-> Be alert and quick with responses.
-> Remain polite, positive, and helpful
-> Make sure your customer is left with no confusion at last (confusion or doubt often results in darting).
-> Reach out to your customers via private messaging as and when needed.
Conclusion
As social media has blended into people's daily lives, it has become inevitable for businesses to optimize their social media marketing – the journey starts with creating a business profile and ends with your business's success.
You can either try by yourself or hire an expert to do the SMM part for your brand. To pace up with the ever-evolving trends of social media can be hectic and consumes time, and here comes to rescue of the social media marketing companies. In today's date, outsourcing your tasks to skillful hands is one of the wisest choices you could make. After all, standalone expertise would handle your social media branding and dedicate the best SEO services to create an authority of your brand, and assess your progress with thorough metrics.
(Visited 255 times, 1 visits today)