How to Submit your Website to Search Engines?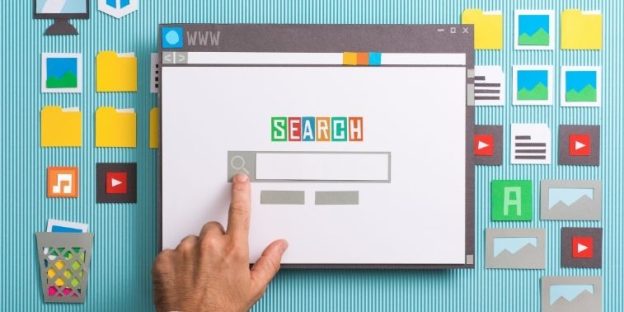 We have said it multiple times and we are going to say it again, your business is nothing without a website in today's market. As you know that almost everything is online, people can get everything online with just a few clicks. Even if you are selling something unique, someone will find a way to sell it online using a website and start earning the profit that you can only think off. Instead of waiting on customers to reach you, going online and visiting them by yourself and telling them what you have to offer is a great way to increase your revenue and strengthen yourself in the market.
All you need is traffic and find new ways to get traffic on your website which you can convert to get more sales. Once you are done with your business website through a top web development company you have to submit your website to search engines. If you do not know that it is one of the most crucial steps to take. You do not have to worry as we give you everything on how to submit your website to search engines and especially when it does it.
Getting registered on Google and other search engines like Bing, Yahoo is without a doubt the most effective way of getting free traffic to your website. However, every search engine follows a different method as all of them are different. Of course the most effective of them is Google but for better good let us learn everything regarding submitting websites to search engines.
Do I Need to Submit My Website to Search Engine by Myself?
When it comes to search engines then they were not designed to rely on manual submissions. Whenever a user searches for something on the search engine result pages then the crawlers crawl the web to find websites to index. All the websites contain information related to the search pops on the SERPs. Every link that leads to something useful as per the search is indexed. This means search engines are pretty good at finding new websites by themselves. But in consideration of the foregoing, let us answer another question.
Why Should You Submit Your Website to Search Engines?
Tell Search Engines About your Business in Advance–
Using a defined primary method is a great way to tell search engines the important information about your website. What if you have something unique, better content than others, or better UI than others in the market. It will definitely help you get more traffic on your site.
Making Sure –
SEO is not an option for businesses in today's market, it has become a necessity. And said by greats, it's better to be safe than sorry. Manually submitting your site is a great way to start your online proceedings.
Opportunity for Improvement –
By submitting your site you get access to various can give you a heads up on certain aspects of your website. Even before you are approaching more traffic you will have the chance to improve yourself. And with regular updates, the search engines crawlers will know that site is updated and requires it to be crawled again.
Get Started with Submitting your Website to Search Engine
-> As a leading SEO service provider, there are a few things that we need to share before you start submitting your site to search engines. You need to start with getting access and editing your website.
-> It's ok if you can't get your hands on the backend at the moment cause it is not necessary to submit a website to search engines. However, with complete access to the website, it becomes a lot easier to add your websites to search engines.
-> Before you start adding your website we suggest you check your website for a sitemap and robot.txt file. Having a correct setup sitemap is an important thing you can do to help your site get picked by search engines.
-> You also need to set your website for two crucial search engines toolsets which are Google Search Console or Bing Webmaster tools. Let us see how:
Google Search Console
Before you move ahead with adding your website to Google, you will need to set it up for Google Search Console and verify that you are the owner of the website. In order to verify it's your website you have to copy the DNS txt record and add it to your domain name provider as this will verify the domain ownership.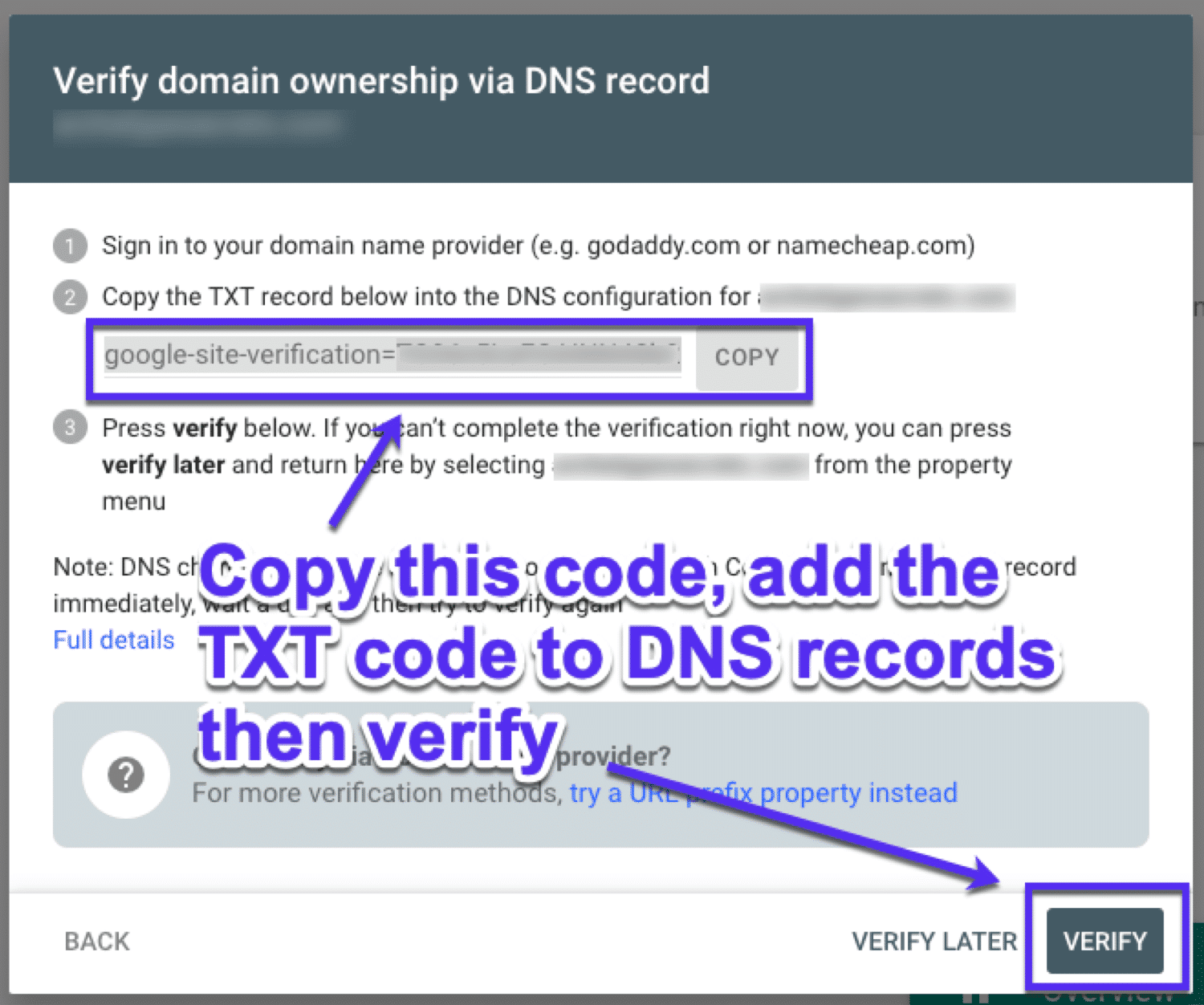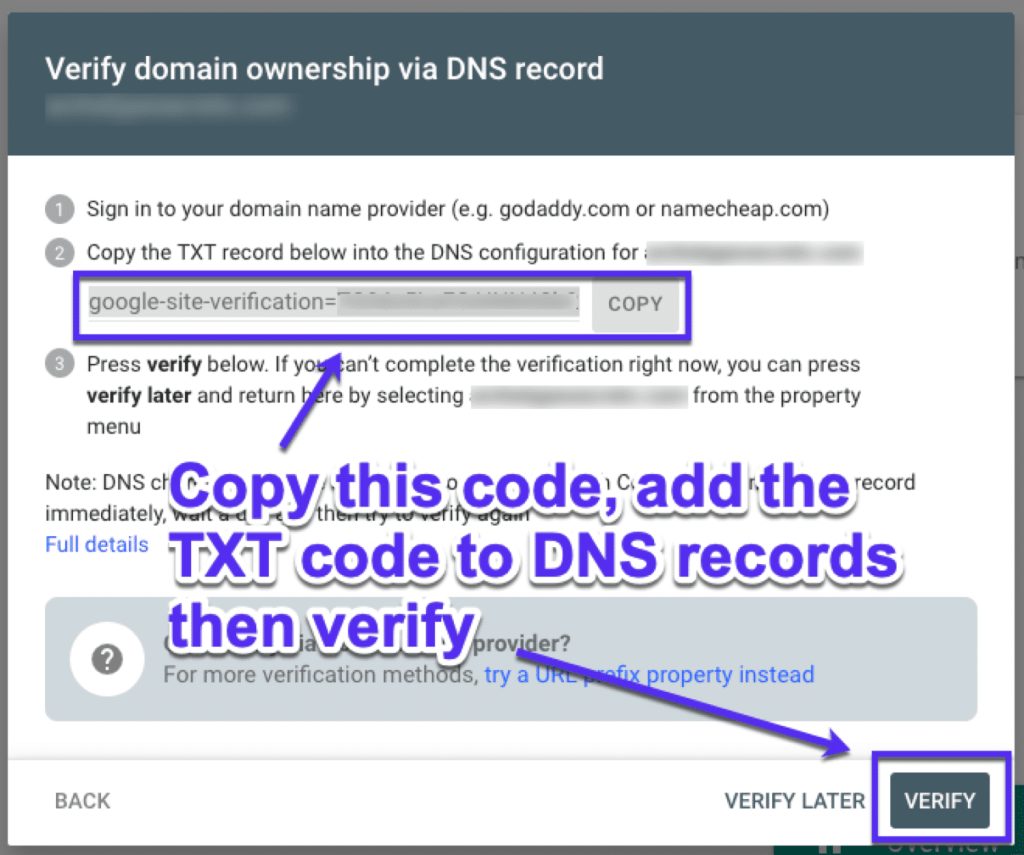 Using DNS records to verify your site is the most comprehensive method and also recommended methods from the top SEO company. You can leave the DNS record forever and it doesn't add to the code to your site.
Bing Webmaster tools
Setting up a Bing webmaster tool is a whole lot easier as compared to other search engines. Once you've got a search console set up already, you can easily just import your sites by clicking on IMPORT.
All of this is needed to set up your webmaster for Google and Bing. Now let's move ahead to start submitting your site to all the major search engines.
How Do I Submit My Website to Google?
With so much experience with Google we can say that it's pretty to submit websites to Google. However, there is only one way to submit and that is by adding your sitemap to the Google search console. Let us have a look at how to do that.
1. Locate your XML Sitemap
The main purpose of a sitemap is to tell Google which pages and files are important in your site and to share your valuable information about these files. The XML sitemap makes sure Google can find and crawl these pages and understand your site structure. So, basically, a sitemap can help speed up your website discovery.
You can find it by going to: YOURWEBSITE.com/sitemap.xml. However, if you have used WordPress for the development then you can use an SEO plugin to find the important sitemaps.
2. Add your sitemap to Google Search Engine
Once you found the Google search engine then open up your Google Search Console and under index, select sitemaps. Paste in your sitemap URL and click on submit. If you have more than one sitemap then repeat the process until all the sitemaps are listed in the submitted section.

As per Google, you no longer need to submit their site to be eligible for the Google News app and website.
3. Submit a Page URL to Google


If you only want to submit an individual page to Google then you need to visit go to URL inspection and paste in your page URL and you want to index. If still the page is not indexed, you will see that GSC says "URL is not on Google". In order to get crawled you just have to click on request indexing. It's really beneficial when you have recently updated your web page with new info then you can ask Google to recrawl the page by clicking on "Request Indexing" so crawlers can see the new changes.
4. How to Check if your Page is on Google?
We understand you want to know if your site has been successfully submitted and indexed or not. All you need to do is to search your web address on Google and it is already submitted then just search it will show up in the search results.
Another way to confirm is by copying a paragraph from your site and searching for that in "Quotation marks". And if your page is on Google, it should come up.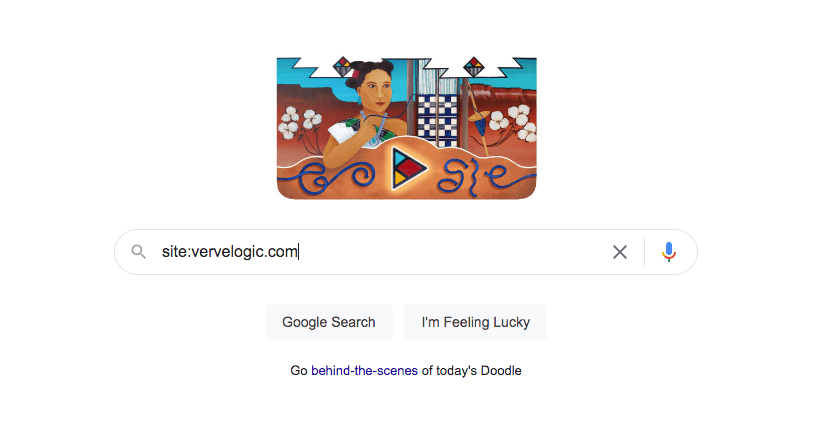 You can use the search operator command "Site:". Open Google and type: site:www.YOURWEBSITE.com. Google will now only show results from the domain you've entered. You can use the site search operator on the homepage or internal pages of your site.
How Do I Submit My Website to Yahoo?
This is the easiest step you will learn in this guide. In order to get your website to show up on Yahoo all you need to do is to submit your website to Bing. Yes, you heard that right, submitting your website to Bing will automatically submit it to Yahoo also. So, without further ado, let us have a look at the process of site listing on Bing.
How Do I Submit My Website on Bing?

To start with setting up your website with Bing you need to visit Bing Webmaster tools. Just like Search Console, submitting your sitemap in Bing is simple. All you need to do is to choose Sitemaps from the menu, paste in your sitemap URL and click on submit. As mentioned, not only will this step add your site to Bing but also to Yahoo as well.
Fun Fact: Submitting your site to Bing also works for Yahoo at the same time because they both are powered by Bing's index.
Bing URL Submissions Plugin
If you have developed your site using WordPress then it's easier for you to submit your site to Bing using their Bing URL Submissions plugin. This plugin works wonderfully as it automatically submits your new or updated content directly to Bing's search index after you have added your API key. There are the following features that you can use:
-> Manual URL submissions
-> Chance to re-submit recent URLs
-> It offers these automatic submission features which allow you to toggle on and off as per your requirements
-> You can also view your recent URLs submitted through the plugin, which can also be downloaded
How Do I Submit my Website to DuckDuckGo?
Being one of the latest search engines in the market, DuckDuckGo makes things easier for you. You do not need to submit your website to this search engine. DuckDuckGo automatically indexes the web so you do not have to manually submit your website to them.
Fun Fact: DuckDuckGo uses more than 400 sources and Bing's search results, just like Yahoo. So, if you want to speed up indexing for your site on DuckDuckGo follow the previous steps for Bing.
Why to Avoid Submission Services?
With so much experience as a leading SEO services company, we don't want you to get conned, so if anyone offers to list your website for some money then you should stay away from them. Getting your website listed on all search engines is completely free as you should never pay a submission fee to get listed. These are the top search engines that provide useful resources to help as well as documented methods of getting a site submitted. You don't need to pay for these services.
Conclusion
When it comes to search engines then they have become very smart and their crawlers will end up finding your website even if you don't submit it to them manually. Moreover, adding your website by yourself is a great way to learn more about search engines and how it works. It also gives search engines some additional information about your website, business and in return, you get indexing data about your site.
Submitting your website to search engines has many benefits but the most important is signaling search engines that you have updated your website and it's ready to crawl. Search Engines are hungry for new content and websites that frequently add content on their site get paid from the search engines. That is one of the reasons why sites have a blog section with newly found keywords.
As mentioned earlier SEO is a field that is going to be necessary for every site out there. However, whoever comes first will reap the benefits early. If you also want to get rich and relevant traffic on your website then you need services from the top SEO company that can come up with the best strategy as per your business as you move ahead with flying colors.
(Visited 154 times, 1 visits today)