20 Best Alternative Search Engines To Use in 2022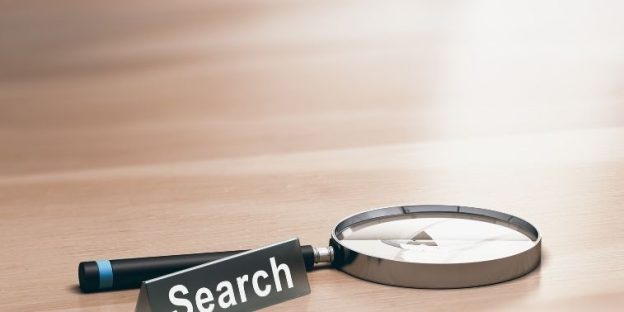 There is a reason whenever we think of Search Engine Optimization we think of Google only. Isn't it awkward because there are many other search engines as well in the market? We understand that Google has partnered with almost every big enterprise in the market and we see this search engine almost everywhere. And the funny thing is Google Images is the second biggest search engine which is basically a subpart of Google.
But there are lots of alternative search engines and they even have many new things to offer. Being a business can help you get yourself running when you have the right plan of action to target the audience using these other search engines. The competition on Google is immensely high and in order to achieve the success you need comprehensive SEO services that tackle Google algorithms and make you better, but getting traffic at the same time from other sources can be really helpful for your business.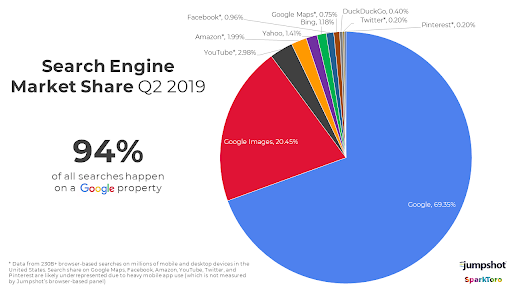 Image Source: Sparktoro
Don't get startled by seeing this image, even if it's the biggest search engine out there, it doesn't mean it's your only choice. These other search engines have a lot of offers like increased privacy and an audience that takes their privacy as a major concern is surely rich traffic to target. On the other hand, Google is very well known to track user data both for its own and third-party use.
Even for the audience, they need an option in the market and the most common question that pops up in their minds are:
-> Which search engine is the safest?
-> Which search engine offers the best privacy of data?
-> What are the top search engines other than Google?
Alternative Search Engines Other Than Google
1. Bing
Microsoft's Bing top's the chart as it is known as the second largest search engine after Google. It's pretty straightforward and offers a greater visual experience through its appealing background images. Bing is known for its efficient video searches, it displays results as large thumbnails that make the video preview along with sound. It gives you an idea of what this video has to offer so you know whether you need to click on it or not. Youtube also has this preview system but without sound.
Being a straight and biggest competitor of Google it also has many internal features like translation, flight tracking, currency conversion which makes it a versatile tool of its own in the market. But the best part is its Rewards scheme, where shopping or searching through Bing gives you Bing points that you can use to buy apps and movies later.
Reasons Why Use Bing Over Google
-> Image Search – Offers sharper and higher quality images in the result pages
-> Video Search – This allows you to watch videos even from Youtube and that too without leaving the search engine
-> Free Stuff – Its reward point is definitely superior
-> Social Media – Bing's social media integration within the SERPs adds up a lot
-> Overall Look – Bing's result pages are less cluttered and temptingly cleaner which makes it better
2. Duck Duck Go 
DuckDuckGo is another superb and popular search engine for people who sell privacy to users. If you are also afraid of getting track of your every step then DuckDuckGo will be the perfect search engine for you to use.
With fewer ads, a less cluttered interface, and infinite scrolling are some unique features you will experience using this top-class search engine. As mentioned, no tracking of your data, it also keeps your activity private through its useful extension. As per Duck Duck Go, "Google not only keeps your search history by default but their trackers have been found on 75% of the top million websites."
One of the useful features DuckDuckGo has to offer is called Bangs, which basically allows you to search directly within another website from DuckDuckGo just by typing the prefix.
Why use DuckDuckGo Over Google?
-> Allows you to see the social media bio of the users without leaving the page
-> Need to change the case from lowercase to UPPERCASE in a sentence then add that word in front of the sentence. For instance, on the search bar "Uppercase verve online marketing" the output would be "Verve Online Marketing".
-> Tells if the website is down or not, if yes then for how long.
-> Loan Calculator in the search bar
-> Privacy is the biggest bonus of using DuckDuckGo
3. Yahoo 
Yahoo is one of the oldest search engines on the internet. It came into existence in 1994 by Jerry Yang and David Filo, three years earlier than Google.
Fun Fact – Do you know that Microsoft's Bing(3rd June 2009) is younger than DuckDuckGo(25th September).
Yahoo is still used by many users worldwide as it is still a default search engine for the Firefox browsers. What makes Yahoo useful is the integration of more than one feature on one platform. Yahoo's web portal provides email, news, online shopping, games, and much more which basically offers an all-around experience in one place.
Ask is basically a question answering focused on e-business. It is one of the top 10 search engines in the world which is a web search engine based on the question/answer principle. And it is the reason it is super user-friendly, especially for older people. That is why older audiences prefer to ask over other search engines. As per your previous history and asked questions it displays frequently asked questions that are related to your search term. It makes it very engaging and since it gives your results in the form of queries and answers it makes a great search engine.
How is Ask different from Google?
Ask uses a different and its own technology when it comes to find queries for your search. Ask calls it "ExpertRank", which is an automated search algorithm that orders results using topic communities and the editorial functions which basically create "Smart Answers". On the other hand, Google ranks its pages by popularity and uses its own algorithm.
Just like Coca-Cola has its secret recipe, ExpertRank is a secret formula that makes Ask different from the other search engines. But they do say that the top results in searches are determined by expertise, not by popularity.
5. Baidu
The current percentage market share of Baidu is 1.91%. But it is the top search engine in China. Being one of the largest AI and internet companies in the world, Baidu's search engine covers 70% of China's internet market. It is very much similar to Google in terms of design and even the algorithm as it also monetized itself through ads and also uses rich snippets in search results. Being Chinese Google, Baidu is heavily censored. Many images and even pro-democracy websites are blocked from this search engine.
Facts about Baidu Search Engine
-> Baidi beats Google to making money on ads
-> Baidu has over a billion active mobile users
-> Your website needs to be in Mandarin to rank on Baidu
-> If you want your website to rank on this search engine, start working on your website's home page
-> It currently ranks at 4 on Alexa, above Wikipedia and Facebook
-> Ads are given priority on Baidu as its first search pages are filled with ads
-> Baidu Analytics is used by more than 7 million websites
6. WolframAlpha
We are pretty sure, you have heard about the all above-mentioned search engines but the next one on the list is pretty unique. WolframAlpha, is a distinct search engine for computing answers and offers knowledge.
It is privately owned by Wolfram Research that makes it easier for you to get expert-level answers using their amazing algorithm, impressive knowledge base, and AI technology. The main niche that offers excellence in Mathematics, Science & Technology, Everyday life, Society & Culture, etc. It also offers some useful tools which make it easier for you to compute data, research statistics, and find experts from the list that can find answers to your questions. Just like DuckDuckGo, Wolfram Alpha doesn't track any of your searches and offers peace of mind when it comes to privacy.
7. Boardreader
BoardReader is another search engine that lists alternatives to Google, it allows users to search forums as you can filter down results by date and package. It's pretty useful for content writers from all around the globe as it makes it easy to find content written by real users within the topic. It searches for information like online forums, message boards, blogs, news sources, and videos. Well, it is a very handy tool for bloggers, right?
It also aggregates data from multiple social media sources across the internet. Just like Google, it has its own crawlers that collect data from different websites so it can be searched, indexed, and analyzed by its very own tool Watson Content Analytics.
8. StartPage
Startpage is a Dutch search engine company that was launched in 1998. It highlights its privacy as its distinctive feature, yeah we heard the same while we were reading for DuckDuckGo. Startpage is known for its utmost privacy-focused search engine that works relentlessly to deliver search results that are as good as Google and Bing.
Now when it comes to the best private search engine then Startpage has a slight edge over DuckDuckGo. Both of them offer detailed privacy, DuckDuckGo does not collect your IP address but it logs the search queries without personally identifying the user. However, Startpage does not collect anything from the users, not even the search queries.
Startpage's claim to be "The world's most private search engine" is well established and well versed among the community as they also believe in it. Startpage also offers a proxy service which makes it easy for you to browse websites anonymously along with their online safety. Now you may be wondering since they do not save any data then what about cookies? Startpage has its own custom URL generator which means you can browse without the need for a set of cookies. Other features that make it a top search engine alternatives to Google is the smart, clean and uncluttered interface, like Google you can set various themes, including a night mode.
9. Ecosia
Just when you think you have heard it all, here comes a search engine, Ecosia, that does not have an environmental impact on CO2 emissions. Now you might be thinking how's that possible? Ecosia claims to donate 80% of its profits to NGOs that focus on reforestation.
Instead of a profitable business, the creator Christian Kroll considers Ecosia as a social business. It claims full financial transparency and protects the privacy of its users. Ecosia's every search is powered by Bing and the profit goes towards its tree-planting scheme.
10. Qwant
In this world where bigger companies are toying with your personal data, users are forced to look at the options that offer the privacy of their data. It's true that the internet is inevitable at the moment and will be in the future but the privacy of your data is your right. And that is why more and more privacy-based search engines are launching in the market, and Qwant is one of them.
Qwant is France based search engine that was launched in July 2013 and is headquartered in Paris. What makes Qwant distinct is its own indexing engine. It doesn't record your searches or even use your personal details for advertising.
The user-friendly interface searches for your queries all over the internet including social media platforms. Its impressive feature that uses AI to help you search for lyrics and discover new music makes it one of a kind search engine market. Qwant is neither better nor worse than DuckDuckGo as both search engines show personalized ads, but DuckDuckGo's reach all over the Globe and certain features make it a better option than Qwant at the moment.
11. Search Encrypt
SearchEncrypt is another privacy-based search engine on our list. It uses a local encryption method to ensure that users' identifiable information cannot be tracked. Search Encrypt is a metasearch engine tool that uses the data of a web search engine to produce its own results. It gets its results from a network of search partners to offer results that are not personalized to your history.
The best feature of this privacy-based search engine is that it itself erases your local browsing history after 15 minutes of inactivity. Now you do not have to worry about your privacy even if someone wants to access your computer.
12. SearX
SearX is another alternative to Google and other search engines in the market. Just like Search Encrypt, SearX is also a metasearch engine that offers a decentralized view of the internet. Getting privacy from your browser means offering unbiased results on your search and that can be possible when your browser doesn't save any of your data and that's what SearX offers.
It is an open-source search engine that is available to everyone for a source code review, as well as contributions on GitHub. You also get an option to customize it and even host it on your server as your own search engine. Apart from this, SearX also offers usability and fast, precise results that everyone loves.
13. Yandex
Just like Baidu is immensely used in China, Yandex is used extensively in native Russia as it holds 60% market share in the country. It is also the fifth most popular search engine worldwide. Yandex is very similar to Google as it allows you to search websites, images, videos through its user-friendly layout. Its additional features include easy translation, cloud storage, maps, mobile apps, cloud storage all of this with a cleaner interface.
14. Gibiru 
Gibiru – Another alternative to Google but appears very similar to Google in terms of design. As the developers of Gibiru say, "Unfiltered private search", and that's what it actually offers. If you are looking for private and unbiased search results and ensure that other computer users won't be able to track your history.
Gibiru's servers don't save any of your search queries and all the records are erased within seconds of the search being performed. Unlike Google, it's not reliant on advertisement revenue, you won't be retargeted with ads based on what you have searched on the browser. But you will still find the ads but not based on your personal information.
Pros of Gibiru
-> Doesn't log IP addresses
-> Doesn't allow websites to rely on cookies
-> Doesn't store or trade your personal data
-> Browsing is secured by a 256 bit HTTPS encryption
-> Offers uncensored search results
15. Disconnect Search
Since we are moving towards the end of the list, we bring you some interesting search engines which you would love to know about and Disconnect Search is one of them. It allows you to conduct anonymous searches through a search engine of your choice. When you enter your term on Disconnect Search, it will be rerouted and anonymously pass through Disconnect Search's server and then onto the search engine, you selected. Amazing isn't it? This method allows you to use your favorite search engine without any privacy issues.
The main feature of Disconnect Search is that it offers browser extensions and apps that make it easy for you to block sites that are tracking you, view advertising requests, and many other privacy-based functions.
16. SwissCows 
Swisscows, is a web search engine launched in 2014, which uses semantic data recognition that gives faster results to queries and doesn't store any of the user's data. Another great feature is that it is super family-friendly as explicit results are entirely omitted.
The best part of using Swisscows is that its servers are based in Switzerland, which has some of the world's strictest privacy policies. It does have this semantic information recognition to offer intuitive answers to search queries and data pools which quickly generate answers that too efficiently.
17. Lukol 
Lukol is very similar to Disconnect search as it is also an anonymous search engine that serves results from Google. It is efficient in maintaining your privacy by removing all traceable elements. This basically means you can have the benefit of Google's search power without worrying about being tracked. Lukol also offers easy functionality with image search options like web, images, news, and videos.

18. MetaGer
MetaGer is another metasearch engine that is also focused on protecting users' data. They are basically a nonprofit organization which means they gain nothing from tracking your searches. The queries on metasearch go up to 50 external search engines which offers a great variety to the results and you eventually get what you are looking for. MetaGer also offers a plugin that sets MetaGer as your default search engine so you can remain private with your every search.
19. Gigablast
Gigablast is a free and open-source web search engine and directory. It has its own independent engine and web crawler that can index millions of websites and can get you real-time information without tracking your data. It helps you keep away from these online marketers and spammers.
It offers many amazing features like filtering your queries, including searching by language, exact phrase, and file type. As mentioned you also get a directory and a comprehensive advanced search function.
20. Oscobo
Oscobo is the last search engine in our list that offers privacy whenever you search the web. You are away from third-party tools or scripts as your data is protected from hacking and misuse. Oscobo doesn't track your data, your IP, or cookies making it private to use. Just like Google, you can search by web, images, videos, and maps for great usability. It also offers a chrome extension which makes things easier for you to search the internet.
After seeing the top alternatives of Google and other search engines, let us dive deeper and answer the following questions.
Best Private Search Engines
After going through the list, DuckDuckGo surely offers a detailed and transparent privacy policy. But if your idea is to get 100% privacy is your goal then DuckDuckGo saves your search histories. They claimed that it was "non-personal" and aggregated data that can't be used to track you back.
StartPage is another top private search engine with one policy in mind: "We don't track you. We don't profile you." When you use StartPage the metadata is totally removed from your search query. So, basically, you are sending your request to Google anonymously and you get the result.
Conclusion 
Having more than one option is always great, personally and for business. If you are looking for more privacy, unbiased results, and better usability then there are plenty of options out there to choose from.
(Visited 3,286 times, 2 visits today)